So, I received a few recommendations to read this book.
BEST RECOMMENDATIONS EVER.
This book was absolutely amazing. It was, in fact, so amazing I climbed out of my blogging hiatus to share my love for it for all the world to see.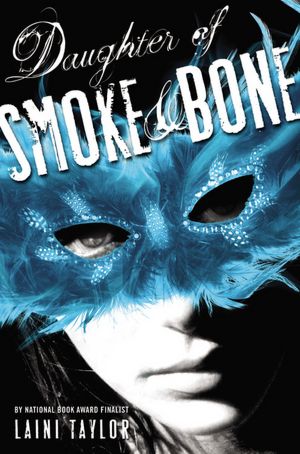 Since I last blogged I've made my way through a few other books -- good books, too. I read
The Statistical Probability of Love at First Sight
, and
Everneath
to name a couple of highly anticipated reads. I've started and stopped reading a few big titles, too. NOTHING I've read since The Hunger Games has impressed me more than
Daughter of Smoke and Bone
. I read this mostly, because
Brodie
had this to say about it:
"

Ooh and Daughter of Smoke and Bone by Laini Taylor. Oh gosh. That book is beautiful. Both the story and the absolutely breathtaking prose. Seriously, one of the BEST romances I have read *sigh* And the worldbuilding is ... wow.

"
Though the cover didn't impress me, this description did. I can't say how glad I am that I picked this one up.
Here's the
info
if you are interested.
What I loved:
It would be so much easier to share what I didn't love.
The story was BEAUTIFULLY written
It was INCREDIBLY imaginative without appearing to try too hard.
There were so many different things going on that even while some things were predictable, much of the story was really interesting. While Taylor shared hints along the way about where the story was going, she made it really come to life once it was all revealed.
Everything came together SO perfectly - the worst is when an author comes up with this great premise and fails to execute it's delivery. Laini Taylor absolutely delivers.
While it's definitely got a lot of fantasy, it really is successful in connecting these otherworldly characters with the human soul. I find so often that paranormal characters are so unlike myself it's difficult to imagine, share emotions, connect with. That's not at all the case here.
Cheers, to a strong and strong-willed female protagonist!
What I didn't love:
It ended.
There is SO little info out about the next installment!
Seriously, if you haven't, read this.
Also, has anyone read anything else by her? If so, what did you think?