Holy smokes! I haven't been busy blogging (or commenting on blogs,
SORRY GUYS
!), but I have been busy
READING
.
First, I've been meaning to ask you guys . . . Are there any legitimate blogging relationships out there in the blogosphere? I totally get the idea of commenting for comments and followers, but I find that a lot of comments aren't vested in what the blogger has said. They will sort of touch on the content and then go immediately for a plug on their own blog. If that's the case, I may end up being more of a blog follower than a blogger. No sense in recording all of my thoughts on something if the readers just want comments back! Silly.
ON TO THE BOOKS!
City of Ashes
absolutely sucked me into this series. I'll move right into what I loved and didn't love.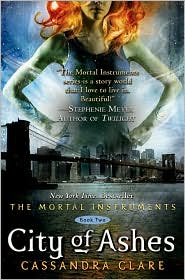 What I loved:
Simon! He gets totally hot in this book. He gets sort of gutsy and speaks up a lot more. I think I wasn't really able to connect with his character in City of Bones (probably because he spent a lot of that book unable to really speak
The freakin' Seelie Queen! Even though she was a super jerk, she brought the romance (and KISSING) back! Thank you, jerky faerie queen!
Magnus Bane! He has quickly become one of my favorite characters.
I thought there was a really great balance between the action and character-building in this book. After reading City of Bones I just didn't feel truly invested in many of the characters, but that all changed in City of Ashes.
What I didn't love:
While I didn't know exactly what the answers were, I knew that a lot of things weren't as they seemed (trying to keep this spoil free - as though there is anyone out there but me that's reading these for the first time). So, there were some parts of the book where I knew things weren't true and wasn't buying into the story line.
Sometimes descriptions get very repetitive. I can't say how many times I read about someone shivering, "and not just from the cold."
I spotted a decent amount of typos! They distracted me every time!
Overall, I'd give it 4/5 stars!
Check the book description out
here.
I actually liked City of Glass better.
What I loved:
That I enjoyed this book so much I forgot to really take notes!
It was the longest of the 3 that I've read and took me the least time to read
Clare really helps you to further understand some characters we have and a few we haven't already really gotten to know. Alec's love life becomes more of a focus, Valentine's intentions become more clear, we understand Jace's lineage a whole lot better, Luke and Jocelyn's relationship is defined. In this book all of the things you're waiting to figure out get figured out. It really is the perfect end to the trilogy.
Clary really comes into her own in this one. She stops being so darn whiny and really becomes the heroine we've been waiting to see.
Sibling sleepovers. I get it, that's weird. It's also so totally right!
What I didn't love:
If this is the perfect end to a trilogy, why am I starting Book 4?! Though, I'm glad their story isn't over, I wonder how far extended this thing will go. There's a prequel trilogy as well as a post-trilogy?
I missed laughing in this one. One great thing about City of Bones was that the dialogue really kept things light and humorous, but there wasn't a whole lot of that in this one.
Again with repeating phrases! I get that it is a long book, but it's not that long!
I'd still give it a solid 4/5! Check this one out
here.