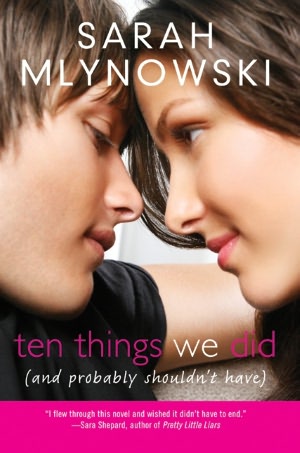 Ten Things We Did (and Probably Shouldn't Have) by Sarah Mlynowski

Publisher:

HarperCollins Publishers

Publication date:

6/7/2011

Pages:

368
2 girls + 3 guys + 1 house – parents = 10 things April and her friends did that they (
definitely, maybe, probably
) shouldn't have.
If given the opportunity, what sixteen-year-old wouldn't jump at the chance to move in with a friend and live parent-free? Although maybe "opportunity" isn't the right word, since April had to tell her dad a tiny little untruth to make it happen (see #1: "Lied to Our Parents"). But she and her housemate Vi are totally responsible and able to take care of themselves. How they ended up "Skipping School" (#3), "Throwing a Crazy Party" (#8), "Buying a Hot Tub" (#4), and, um, "Harboring a Fugitive" (#7) at all is kind of a mystery to them.
In this hilarious and bittersweet tale, Sarah Mlynowski mines the heart and mind of a girl on her own for the first time. To get through the year, April will have to juggle a love triangle, learn to do her own laundry, and accept that her carefully constructed world just might be falling apart . . . one thing-she-shouldn't-have-done at a time.
-Overview from Barnes & Noble
A realistic main character! April thought, spoke and acted like a real high school girl. Not only did this help the story to come alive for me, but I can see how it would help speak to actual teenage girls

A great moral! I think that readers (a little younger than myself) could really gain some insight into real life relationships - with families, friends, and significant others alike

The book was really funny! It makes me wish my parents ditched me back in high school and let me live with my best friends unknowingly for sure!

Though I am a total romance-a-holic, what I really valued about this one were the friendships between the girls

The ending :) I think a lot of teenage girls lose themselves outside of a boy, and I think Mlynowski does a nice job of making this book about more than that.
What I didn't love:
I am definitely not Mlynowski's target audience with this one. It was obviously written for a younger reader. The morals were sort of lost on me toward the end of the book, because they aren't lessons for me to learn. This certainly isn't the authors flaw, however! It's just the issue I sometimes find with being an older adult reading young adult books.

"Hells yeah" and "Hells no." C'mon, Vi! Every time she said it I cringed a little.

It was a little predictable. I, and I'm sure a number of others, knew where the author was headed at times. So, it made it a little less interactive a read.
I really did enjoy reading this book. It was a light and fun read for the most part. I think my expectations were a little high for this one considering the rave reviews and ratings I've seen. I'd give it a solid 3.5/5 stars. It served as the perfect book after reading City of Bones. Now off to City of Ashes!